Dear Silvia,
This past September 11th, as I do every day, towards 11am and then in the afternoon before returning home, I walked into the small fruit shop close to my office, managed by a Pakistani family. They always have very nice fruit; I take it home to my girls. The mother, the father and their three daughters take turns to tend the shop, with their colorful dresses and their dark and proud looks that speak of faraway lands.
However, that afternoon, a Friday, at the checkout of the small shop, mother and daughter were crying. The radio was at high volume saying words I could not understand but it was not difficult to imagine what was happening. International news services were also speaking of a crane in Mecca that had fallen causing the death of those gone there on pilgrimage to pray.
Many things were said about the date and the coincidences. I can only remember that on Morning Prayer we had prayed Psalm 50: "For you do not desire sacrifice; a burnt offering you would not accept. My sacrifice, God, is a broken spirit; God, do not spurn a broken, humbled heart".
I cannot remember well what I told them, in a few minutes, more of silence than of words, and having held the mother's hand. Nevertheless, from that day onwards everything changed. Buying fruit became an excuse for us to get to know each other better: "How old are you? Are you married? How many children do you have?". "I have three girls". "Me too." "Would you bring them here one day so we can meet them?" That is how my three girls came with me on a Saturday, to visit the small fruit shop. "I will go to Pakistan next December, I will bring you some dresses," the mother promises. One day I went there also with Mathias. I introduce him: "he is my husband." From that day, we meet up in the roads of our neighborhoods. When I manage to go to Mass in the morning, the mother comes out to greet me.
Their eldest daughter is 24 years old, she is very pretty. She is studying to become a dentist, just like her grandmother. She is called Rubina. But, often I can see her sitting sadly at the shop's checkout. She attends university in the mornings, like any occidental girl with a washed-out face, jeans and a fashionable t-shirt. In the afternoon, she works to help her parents in her traditional colorful dress. "Why are you sad? You are prettier when you smile," I said trying to sound light only to find myself in front of a drama, a wound, deeper than the one of the crane of death. "I don't want to get married. I would like a family like yours". It seems a contradiction but in reality, Rubina is saying she does not want an arranged marriage.
Rubina is not afraid and speaks to me in front of her mother, while she looks at me as if looking for advice. The mother's glance seems to ask: "What can I do with this daughter I can't understand?" I do not have many words, for Rubina or for her mother Nusrat. I truly do not know what to say, but a big pain has entered my heart. I speak about it with Father Emilio in Madrid, while he is passing through Barcelona, and he starts to pray for this friendship. I tell Rubina to count on his prayers and mine while she adds details to her story day after day. Rubina loves her parents tenderly, she does not want to hurt her sisters – which is what would happen were she to behave outside traditional schemes – but she does not want a husband she does not desire, she wants a husband that esteems her, an engagement based in respect. She believes in pre-marital virginity, in the beauty of family, in freedom.
She tells me she has never gone out without a family member, that nobody can come close to her not even for a brief greeting, which in Spain involves necessarily a kiss in the cheek, that she is dressed smartly whenever a man asks for her hand and goes to her home to evaluate her, that she has already learned not to cry when this happens and now manages to remain serious.
One day I invite her to eat with me, in my office, with a colleague. "I would like God to want my happiness." She speaks her mind about many things and while she speaks, I remember her mother's eyes. I am a mother too. Will I be able to understand my daughters? Nusrat has sweet eyes that wish what is best for her daughters; why so much pain? This family left its own home seeking for a better place to live. I think of Saint Joseph while he guides his family in the desert; and I think of myself because I too am an immigrant in Spain.
The following day, Rubina apologizes. She asks me to forget those words against her culture, the anger against her destiny. However, precisely from those words an unexpected closeness is born in me with that misunderstood mother. Moreover, I take courage and I respond to that question: "What should I do with this daughter I can't understand?" Immediately I tell her: "You desired for Rubina a better life than yours when you came here. Now she desires it". The following day the mother follows me into the church, where Our Lady of Joy is represented with a mantle underneath which there are some children. She asks: "Help my daughter".
Dear Silvia, what does it mean to help someone? The truth is, I had immediately sought some good idea to suggest: maybe she could come to live in my house for a while; then I found a home for her in Madrid; then she suggested getting married and leaving her husband immediately, so as not to dishonor her parents… But all those solutions brought division. Without me even noticing. Then, it was once again Rubina who explained to me what she wanted: "I would like a family like your own". Dearest Silvia, you know, you have lived with us, our family is extremely imperfect! What is Rubina seeking? I feel all the "ideas" that come to my mind are imperfect, until one day I do not see her any more. I start thinking I might have made some mistake. The father seems nervous. I do not dare to ask. Days pass. It seems as if buying fruit at the Pakistani shop has no more sense. I think about it often, I speak about it often. I do not know what is it that ties me to these two women, but I miss them.
Then once again, I meet her, smiling and friendly, I was driving past, but I pull over and she tells me her father had found her the right husband; she had been to Pakistan for the contract. However "something did not work out, a small detail in the contract, and therefore I did not get married. I had the impression I had an angel's hand over my head all the time… I think it might have been that priest from Madrid". My dear Silvia: this was the first miracle I witnessed.
From this point on, all details regarding Rubina and her mother become anecdotal. Rubina is no longer sad because she can desire a new life.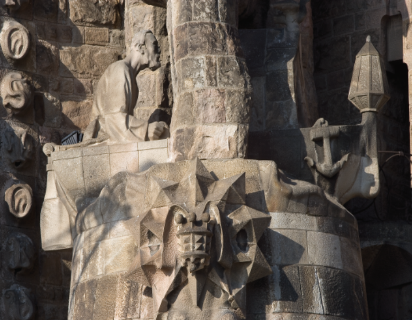 They discover that I work at the Sagrada Familia construction site. I invite Rubina and her mom to see it. So on May 19th, at 2pm, we meet at Sagrada Familia to visit it together. They are a little late because the mother wanted to change for the occasion and indeed her dress and veil are very beautiful.
Dear Silvia, this was one of the most beautiful visits I have had in my life. They listen attentively to all the words I say, they continuously ask relevant questions trying to grasp the faith that makes the Sagrada Familia grow. I am writing to you also for this reason, so I can remember. It will be impossible to remember everything. When mother and daughter discover Sagrada Familia used to be a construction in the periphery of the city, in the fields, but that today is the geometrical centre of the city, Rubina tells her mother "all things are predisposed by God". In front of the Nativity Façade, the mother is moved when she discovers that unseen façade, hidden underneath the images of Jesus' childhood, the façade that represents God.
They want to learn everything. The mother remains very impressed by Saint Joseph; by the way, he guides his family to Egypt, by how he consoles the child Jesus. I explain that the figure guiding the boat looks just like Gaudi. I explain also that the Nativity façade is only one of the three great façades. When I try to explain the Glory the mother exclaims "How beautiful it will be on the day of Glory! I will be able to meet Saint Joseph!"
The mother, with much admiration, explains Mary to her daughter. She did not know Mary was a Queen: in Sagrada Familia, Jesus crowns Mary in the Doorway of Charity. Then, when I explained the three doorways, representing the three theological virtues, faith, hope and charity, I quote Saint Paul: "It bears all things, believes all things, hopes all things, endures all things. So faith, hope, love remain; but the greatest of them is love." The mother bursts into tears and repeats: "Love never dies," and her daughter hugs her. We remain quite some time admiring this façade. The signs make one pray while looking towards the sky – they too have a prayer similar to our "Holy, Holy, Holy" – the stars, original sin, flowers that blossom all at the same time, Jesus born in the smallest column of the whole building.
When we walk in, it was some time before anyone was able to say a word. Like a big silence of admiration. "How beautiful!" are Rubina's only words. Then the mother starts to fire questions at me, like a little girl: "Where is Gaudi's photograph? Why have they not hung it somewhere? Do the builders have faith too? How many years before it is finished? What will it be like when it's finished?" "Of course it looks like a forest", she repeats. I explain that it represents the heavenly Jerusalem, a garden with open walls. She understands perfectly. To help her understand how Gaudi understood the inside I take her to the cloister, to the Rosary Door. I tell her about the anarchist workman and the little peasant woman who are tempted by the devil but are able to resist by fixing their glance on Our Lady.
The mother intervenes: "They are like those terrorists that speak about God but do not look to God". I don't want this visit to ever end. We visit the schools Gaudi built for the workers and the people of the area: "These represent the desire for a better future", the theme comes out again. It is already time to go. Nusrat asks to have Gaudi's photo. I brought her two today. "He is beautiful": she will frame both: one for the fruit shop, the other for her home. I pray to the God who wants Rubina's happiness to keep echoing in our hearts and to Mary, consoler of the afflicted, who has walked with us throughout this journey.
Chiara Curti